Seeing that its now been one month since my family and I embarked on our 2 weeks long Vancouver Island holiday, I figured today was as good a time as any to put together a new blog featuring some of the photos I took during this amazing adventure.
This was my daughter's first flight ever, and she was so excited, and so well behaved! It was like she was a seasoned traveler, and as parents embarking on their first 'toddlered' flight, we couldn't be more proud (and relieved)! After 2 nights in Campbell River visiting family, the hubby and I got to head out on our own
kiddo free
adventure -three nights in Tofino for our Anniversary! It was simply amazing. Did I mention it was kiddo free?! A-MAZE-ING. I simply LOVE this little corner of Vancouver Island. I honestly think is my favorite place in the entire world. The ocean, the scenery, the air, the culture, the vibe… it's everything! To me, it's the kind of place that revives my spirit and speaks to my soul. This was not our first trip out to the Esowista Peninsula, however, it was by far the best. What had made this trip even better than the last one we had a few years back, was the fact that we were traveling in September as opposed to the peak summertime season. We definitely still enjoyed ourselves last time we were there, however, we spent more time in Ucluelet and Long Beach as Tofino itself was a bit of a bustling zoo due to the time of year. This time we got to truly enjoy our time in Tofino, and it was truly the highlight of our trip. After dark, I ventured out to see if I could get a shot of the Milky Way over the ocean, but the weather report wasn't looking promising. There was a promise of rain overnight, but I didn't want to miss a chance to at least get some sort of night sky over the ocean. When I got to the beach there was a fire pit with the last few shouldering coals of a beachside fire that had been left to burn out into the cool night air. The milky way was just rising at that time and could be seen to the south. It wasn't in the best position with the landscape, but it still made for an interesting shot if nothing else. The lights are those of a local cabin and the flashlights of people enjoying a late beach walk. It wasn't much later when the clouds rolled in for the rest of the night. We woke up on our second day there and decided to venture out for some brunch, we stopped by the front desk for a recommendation and it was suggested we try the Long Beach Lodge Resort. The food was great, and we had a beachfront view of the surfers taking advantage of the waves as the water had been fairly calm the day before.
From there we continued on down the highway to Ucluelet to venture on a hike on the Wild Pacific Trail. Which takes you along a scenic path along the rocky reefs and coastline.
After the hike, we decided to head back to Tofino to chill out. We later dined at the Wolf and the Fog and headed back to the beach to enjoy a walk. Believe it or not, I failed to bring my camera with me at this point. I left it in the cabin and only had my phone on me (Samsung Galaxy S8). Of course, this had to be the night with the most GORGEOUS sunset and was pretty downhearted to think I could only capture this beauty with just a smartphone camera. But, I actually couldn't believe how well it did the job! Have a look for yourself! Honestly, I couldn't believe the quality that this camera actually achieved especially on such breathtaking scenery. It just goes to show how far smartphone cameras come over the years, and really reopened up this old-school photographer's eyes to that old adage of 'the best camera is the one that you have on you'.
Can you believe my Samsung Galaxy 8 took these pics?! Once the sun went down and we settled back in at the cabin for the night, I set up my camera to do an overnight time-lapse. I still have to finish putting it together, but all things in due time. Our last day we spent in town, shopping, and wandering through the town before heading to our Tattoo appointment at End of the Road Tattoo. We had impulsively decided to get new ink done on the night we had first arrived for our anniversary gifts to each other while dining at the restaurant located next door. I ran over and booked an appointment for Thursday then that night decided on designs for ourselves.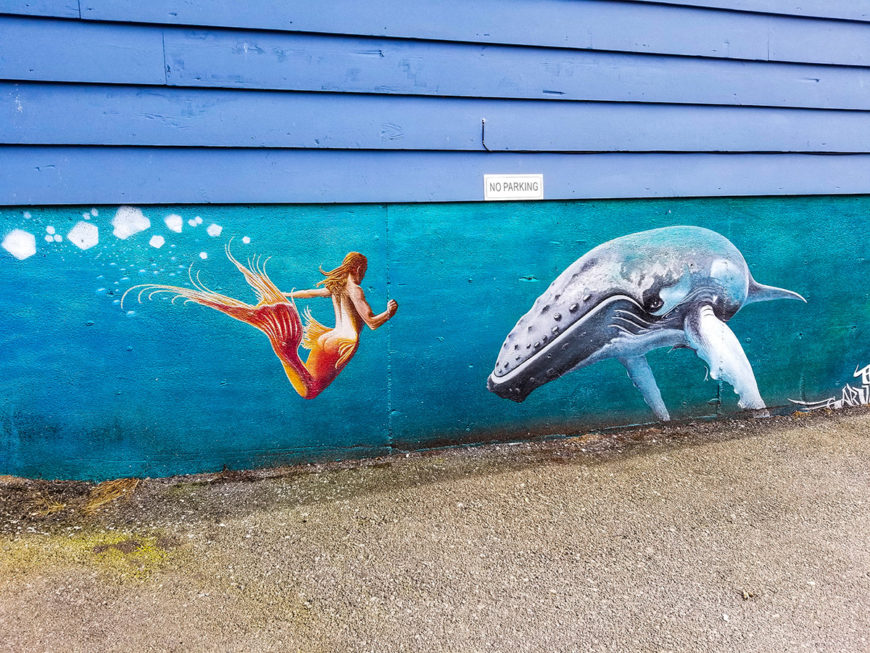 Our Tattoos: I chose a mountain design inspired by a UK artist I really enjoy by the name of Liam Ashurst. I'm a mountain girl at heart and living in Saskatchewan, I miss the mountains incredibly. My husband chose a more sentimental design. 'Ofvoo Dae' is how our daughter used to say 'Love you Dad' when she was learning to talk. We got out a little later than we wanted for our last sunset walk on the on the beach, but it was still a beautiful night. The coast guard had moored for the evening close by and that was the first time I had ever seen a Canadian Coast Guard Vessel.
I can still hear the waves…
The next morning we had to check out and head back to Campbell River. It rained the whole way back, but we still made a customary stop at Cathedral Grove, an old growth forest, and Coombs Goats on the Roof market along the way. The rest of our adventure was spent visiting family, friends, all over the Island between Campbell River and Victoria. We even made a ferry trip over to Quadra Island, and also made a visit to Nymph Falls with a good friend.
Alas, like all great adventures, they eventually come to an end, and we sadly had to head back home to the Prairies. I've always been a Prairie/Mountain girl, but now a big part of my heart has also been left to the Ocean.